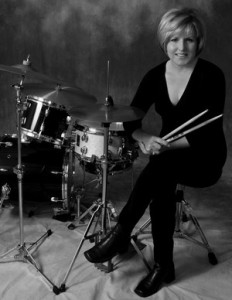 Patricia Dean and the legendary Grady Tate are among the few artists in the history of jazz who play drums and sing, and who do both at an exceptional level. There's probably a reason for the scarcity of jazz drummers who sing, perhaps because it takes a lifetime to master just one of those arts, but the fact is, as listeners will hear on this superb recording, Patricia Dean is no mere "singing drummer" or "drumming singer."  As a drummer, she's an inspiring and supremely tasteful time-keeper, accompanist and soloist.  As a jazz vocalist, Dean is swinging, sensitive, and, quite simply, just wonderfully musical.
This Tampa, Florida, native was literally and figuratively surrounded by music while growing up.  Her father played lead alto saxophonist in the big band of guitarist, later turned actor, Bobby Sherwood, and was also a pianist, composer and clarinetist.  Her brother played bass.  But the person who, as she says, "totally blew me away," was none other than the singer/drummer Karen Carpenter. "My fascination with the drums and singing came about when I first saw her," Dean says.  "I knew that that's what I wanted to do."  The Carpenter influence is not as strange as it seems.  She was a fine, fine vocalist who had a great love and respect for jazz.  As a drummer?  When Carpenter was introduced to Buddy Rich, Buddy said, "Karen Carpenter.  Do you know you're one of my favorite drummers?"
Dean went through her "banging on pots and pans stage" while playing with The Carpenter's records, though in Dean's case, it was pillows and then aluminum foil-covered boxes that took the place of the cookware. Finally, she got an actual drum set,  began studying privately and really playing, at the age of 11.  She played her first professional job with her father and brother when she was 14.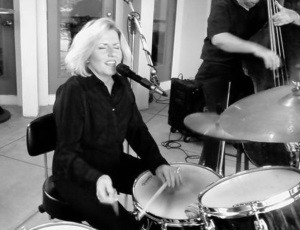 And along the way, she listened and listened and listened.  She cites Sarah Vaughan, Shirley Horn, Nancy Wilson and Julie London as among her singing influences.  Careful listeners may hear some overtones of Dinah Washington who, of course, greatly influenced Nancy Wilson, and Duke Ellington's Betty Roache.  Indeed, Dean's version of "Take the A Train" recalls the memorable Roache/Ellington recording of that song in 1952.  What is so special about Dean's singing, is that she is equally skilled and convincing as a heartfelt ballad singer, swinging scatter, and evocative interpreter of Brazilian melodies.  That's rare.
In terms of drumming, Dean names Ed Thigpen, Jack DeJohnette, Tony Williams and Sonny Payne as some of the percussionists she listened carefully to.  Thigpen's work with the Oscar Peterson Trio was and is a textbook example of how to play drums, particularly brushes, in a small group.  Payne's sense of time with Count Basie's band was remarkable, and Williams' and DeJohnette's playing embody a looser, less structured style.  Dean has taken the best of what these players represent and combined them to forge her own, unique identity.  Above all, no matter what the style or the song, "taste" is at the forefront.
Through the years, Dean has worked with any number of jazz legends, including Nat Adderley, Ira Sullivan, Whitey Mitchell, Bobby Militello and the late John LaPorta who once said to her… "your two and four is so deep."